A new coronavirus is spreading around the world, and we'll be bringing you the need-to-know headlines about the outbreak daily. You can also get the latest updates on this fast-moving story from our global team of journalists here.

Friday, March 27
The United States is now the epicenter of a shifting global pandemic. With more than 82,000 confirmed coronavirus cases, it has surpassed China, Spain and Italy, the hardest-hit countries to date. Note: those nations have still recorded more deaths. The grim milestone comes as US officials reported a record number of fatalities in a single day.

So how did America get here? A series of missteps, and missed opportunities: a failure to take the virus seriously even as it brought China to its knees, a fumbled federal government response to testing that left the US in the dark about the magnitude of the outbreak, and a desperate shortage of masks, personal protective equipment and ventilators that has put both medical workers and patients at risk.

After initially downplaying the significance of the disease, repeatedly calling it the "China" or "Wuhan" virus, President Donald Trump spoke last night with President Xi Jinping, who said China was willing to offer the US support in tackling the outbreak, but warned that it needed to take "substantive actions" to improve relations. Trump said he and Xi were "working closely together."

But even as the US scrambles to cope with the widening crisis, and overstretched doctors turn to increasingly extreme measures to deal with gruesome conditions, the US President is still touting a tale of great success — hailing a far lower mortality rate than he had expected, on what was the country's deadliest day.

While China's reopening of Hubei Province, ground zero of the outbreak, was hailed earlier this week as a hopeful sign that the virus can be defeated, it's becoming clear that declaring victory is not that straightforward. Tonight at midnight, Xi will take the extraordinary step of effectively sealing off the country to foreigners, as fears mount over imported coronavirus cases sparking a second wave of infections.

And in a stunning development, UK Prime Minister Boris Johnson announced today he had tested positive, as British doctors say they're "preparing for battle" and bracing for a surge in cases. "I am now self-isolating, but I will continue to lead the government's response via video-conference as we fight this virus. Together we will beat this," Johnson said on Twitter.

THE LATEST NUMBERS
As of 8:00 a.m. ET, March 27

Global Cases
549,604
Global Deaths
24,863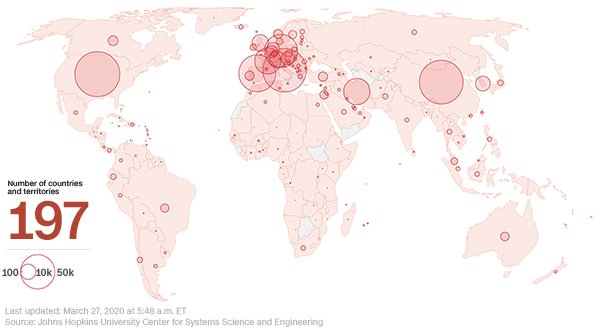 Like our newsletter?
Tell your friends to sign up here.
WHAT'S IMPORTANT
TODAY
The cost of coronavirus
The US, Europe, Japan, China and India are unleashing trillions of dollars in government spending and newly created money as they desperately try to keep the global economy from sinking into depression, Julia Horowitz reports. The bill for saving the world economy so far: $7 trillion (and rising). The total spans government spending, loan guarantees and tax breaks, as well as money printing by central banks to buy assets such as bonds and stock funds.

That figure also includes the $2 trillion US relief package working its way through Congress, which Speaker Nancy Pelosi said she expected to pass in the House of Representatives "with strong bipartisan support." The vote is expected today.

Investors are counting on US lawmakers to clinch a deal. Global stocks failed to maintain their momentum today, indicating that a spectacular three-day rally that pushed the Dow Jones Industrial Average (INDU) out of a bear market could be losing steam.
Cracks in the world's largest lockdown

Thousands of migrant workers are attempting to leave India's major cities after a government lockdown left them without jobs or pay. The potential mass migration may undermine attempts by Prime Minister Narendra Modi's government to prevent localized spread. "It is better than living here with nothing and starving to death," one construction worker, who was earning $7 a day before losing his job, told CNN.

Meanwhile, in Nepal, hundreds of trekkers are stranded on high-altitude mountain trails after a nationwide lockdown left them with no way out. Nepal's tourism board is working with government agencies to rescue some 500 foreign hikers stuck there.

And in war torn Syria, people inside a rebel-held enclave who have been under de-facto lockdown for years are bracing for a coronavirus "tsunami" — without soap, running water or the prospect of social distancing.
What the virus does to your lungs
"I want people to see this and understand what this can do," said Dr. Keith Mortman, the chief of thoracic surgery at George Washington University Hospital, which has released 3D video of a coronavirus patient's lungs. The 360VR scan shows the rapid spread of the infection and inflammation to both lungs of a 59-year-old man, causing the patient to gasp for air. Just days before, he was asymptomatic.

In some people, the damage will be irreversible. That stark reality, combined with dwindling ventilators for seriously ill patients, has forced some hospitals to consider a difficult discussion: whether to make changes to policies and practices when it comes to do-not-resuscitate situations.

One doctor gave the New York Times a rare look into the "apocalyptic" scenes at a New York City hospital: patients lining up outside the emergency room and a refrigerator truck to hold the bodies of the dead.
Some good news: the World Health Organization says a study published earlier this month that suggested coronavirus could linger in the air for up to three hours doesn't reflect the situation in the real world — and doesn't offer any evidence of airborne transmission.
Why official coronavirus statistics are misleading
Why is the death rate so low in Germany? How come the UK has comparatively fewer cases than elsewhere? And what's going on in Russia? Questions once reserved for epidemiologists are now being discussed over dinner tables and around (virtual) water coolers across the world, Ivana Kottasová reports.

For people comparing the data and trying to calculate how different countries' epidemics stack up against each other, experts have a warning: nations have varying reporting standards, as well as approaches to testing and tracing cases, all of which makes such comparisons dangerously misleading.
ON OUR RADAR
TODAY'S TOP TIP
The coronavirus can live on surfaces for upwards of three days — or even longer. Here's how to clean and disinfect your home properly to stay safe (in three steps):

Clean high-touch surfaces — like doorknobs and light switches — using a detergent or soap and water.
Disinfect to kill any pathogens. Can't find disinfectant wipes or cleaning solutions? A homemade mixture of bleach and water can be used if appropriate for the surface.
Wash clothing using the warmest water setting and let items dry completely. Don't forget to clean and disinfect your laundry basket.

YOU ASKED. WE ANSWERED.
Q
How can I keep healthy during the coronavirus pandemic?

A
Being physically active, meditating and managing stress, and getting adequate sleep are key. Lisa Drayer outlines more healthy habits that will help boost your immunity here.

Thousands of people have asked us questions about the outbreak. Send yours here. Are you a health care worker fighting Covid-19? Send CNN a message on WhatsApp about the challenges you're facing: +1 347-322-0415.
Subscribe to Coronavirus: Fact vs. Fiction Newsletter
View on CNN