A new coronavirus is spreading around the world, and we'll be bringing you the need-to-know headlines about the outbreak daily. You can also get the latest updates on this fast-moving story from our global team of journalists here.

By Angela Dewan
Thursday, March 26
"We don't have the machines, we don't have the beds." That's the stark warning one doctor at a New York City hospital gave CNN as he described how underprepared they are for an influx of patients.
Doctors and health experts in the United States are calling for more ventilators and protective gear, as the country marked its deadliest day Wednesday, reporting 223 deaths.
"To think that we're in New York City and this is happening," the doctor said, speaking on condition of anonymity. "It's like a third-world country type of scenario. It's mind-blowing."
New York has become the national epicenter of the outbreak, as cases there are now doubling every three days, overwhelming hospitals. New York state's hospitals have enough personal protection equipment for just two more weeks, Governor Andrew Cuomo has said, while it's in need of 180,000 more beds.
To help stave off a crippling recession, the Senate voted to inject a $2 trillion stimulus into the US economy, a move that now needs approval from the House. President Donald Trump has pledged to get the economy "raring to go by Easter," a goal that experts warn is too ambitious.
They have reason to worry. A record-breaking 3.28 million Americans filed for their first week of unemployment benefits last week — more than four times the previous high in 1982 — as businesses shut down to slow the virus' spread.
And as nearly a third of the world is now under coronavirus-related movement restrictions, Spain is fast becoming the new European hotspot, recording more coronavirus deaths than China. Madrid has asked NATO for help, requesting both medical and personal protective equipment.
THE LATEST NUMBERS
As of 8:00 a.m. ET, March 26
Global Cases
487,648
Global Deaths
22,030
Source: Johns Hopkins University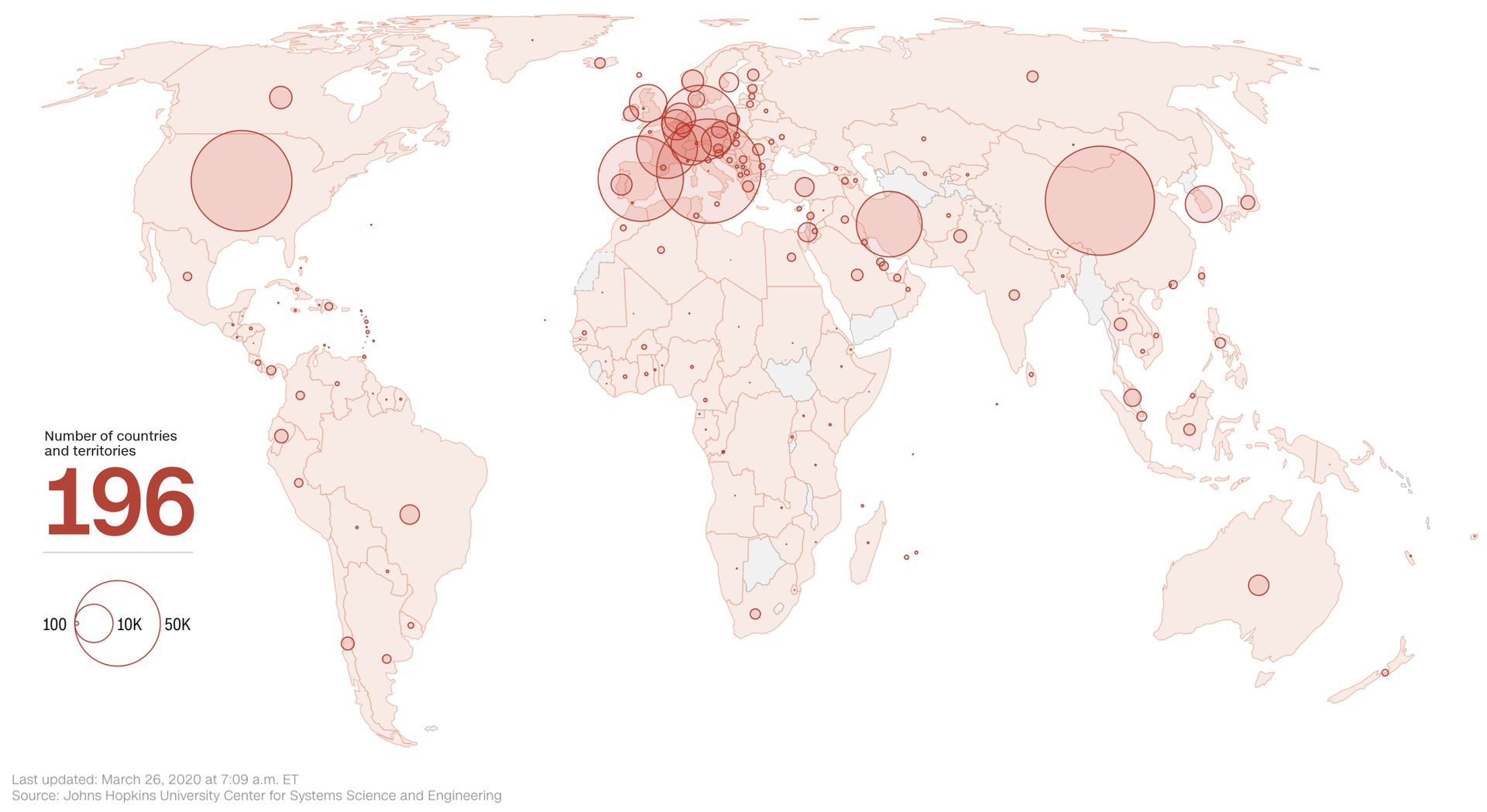 Like our newsletter?
Tell your friends to sign up here.
WHAT'S IMPORTANT
TODAY
A chance to show some unity
This might be a pandemic, but countries' responses to the coronavirus have still been largely in isolation.
At a G7 video-conference meeting yesterday that was supposed to find ways of coordinating a response, foreign ministers were forced to scrap a joint statement after the US drafted one referring to the "Wuhan virus," a term that one European diplomat slammed as a "red line."

Trump and his senior officials have repeatedly called Covid-19 the "Chinese virus" — though Trump has backed off using the term as of late. And today, US ambassador to the UK Woody Johnson accused China of engaging in "blatant and dangerous propaganda," saying the world might have been spared the full impact had Chinese officials not suppressed facts early on.

There will be other chances to show unity today, as a G20 video-conference meeting takes place after criticism the group had done just about nothing to coordinate an economic response. While US-China tensions could stymie progress there too, an oil price war between Saudi Arabia and Russia may not help either.
The global economy just won't budge

US lawmakers are putting the finishing touches on their $2 trillion rescue package, with cash and assistance for regular Americans, Main Street businesses and hard-hit airlines and manufacturers, among others.
But even $2 trillion is not enough to dispel fears stalking Washington that the coronavirus crisis could pull down the economic foundation on which American life depends, writes CNN's Stephen Collinson.
Investors got a sense of just how bad the economic damage is with today's staggering report on initial jobless claims, which soared to a seasonally adjusted 3.28 million in the week ending March 21. That is the highest number of initial jobless claims in history since the Department of Labor started tracking the data in 1967. The jump marked a massive increase from a revised 282,000 claims in the prior week.
Some EU leaders are looking for new tools to stimulate their economies and are pushing for "corona bonds," a new instrument that would allow them to collectively raise money to combat the pandemic. The plan is likely to be opposed by countries including Germany.
Social distancing works, new data shows

New research is backing up the social distancing measures imposed in several countries, Ivana Kottasova reports. According to a Lancet study published overnight, the lockdown in the Chinese city of Wuhan significantly slashed the number of infections there.
The restrictions worked because they reduced the virus' reproduction number — the average number of people each infected person passes the virus on to. It's too early to be certain, but most scientists put the reproduction number somewhere between two and three when no restrictions are in place.

The Czech Republic released preliminary data on Tuesday suggesting that the initial reproduction number there dropped from 2.64 to 1.84 after restrictions on movement were imposed two weeks ago. Long story short: the data shows that staying at home is the best course of action.
Cruise ships still causing problems
Another cruise holiday gone wrong is playing out in Florida, where 77 people aboard Holland America's Zaandam have reported experiencing flu-like symptoms, according to a release on the cruiseliner's website.
CNN spoke with passenger Maureen Foran, 75, who is aboard the ship. She has had no face-to-face contact with anyone, family or crew since the quarantine started. "We are forbidden to leave our rooms," she said. "I am thankful for a window but I am getting claustrophobic."
And in Australia, three cruise ships are waiting off the country's western coast after being told they won't be allowed to dock under any circumstances.
ON OUR RADAR
TODAY'S TOP TIPS

YOU ASKED. WE ANSWERED.
Q
Can coronavirus spread through water, like in a pool or hot tub?
A
While many gyms are closed, there is no evidence that the virus can be spread to humans in pools or hot tubs, according to the US' Centers for Disease Control and Prevention. The real risk at gyms is coming into close contact with other people.
As for drinking water, doctors say you don't need to worry about coronavirus in the tap water because most municipal drinking water systems should remove or inactivate the virus.
Thousands of people have asked us questions about the outbreak. Send yours here.
Subscribe to Coronavirus: Fact vs. Fiction Newsletter
View on CNN